Bienvenue à Beynac-et-Cazenac
Flying to Bordeaux, then driving up the Dordogne River brings us to Beynac, an even more charming medieval village, even less navigable by automobile.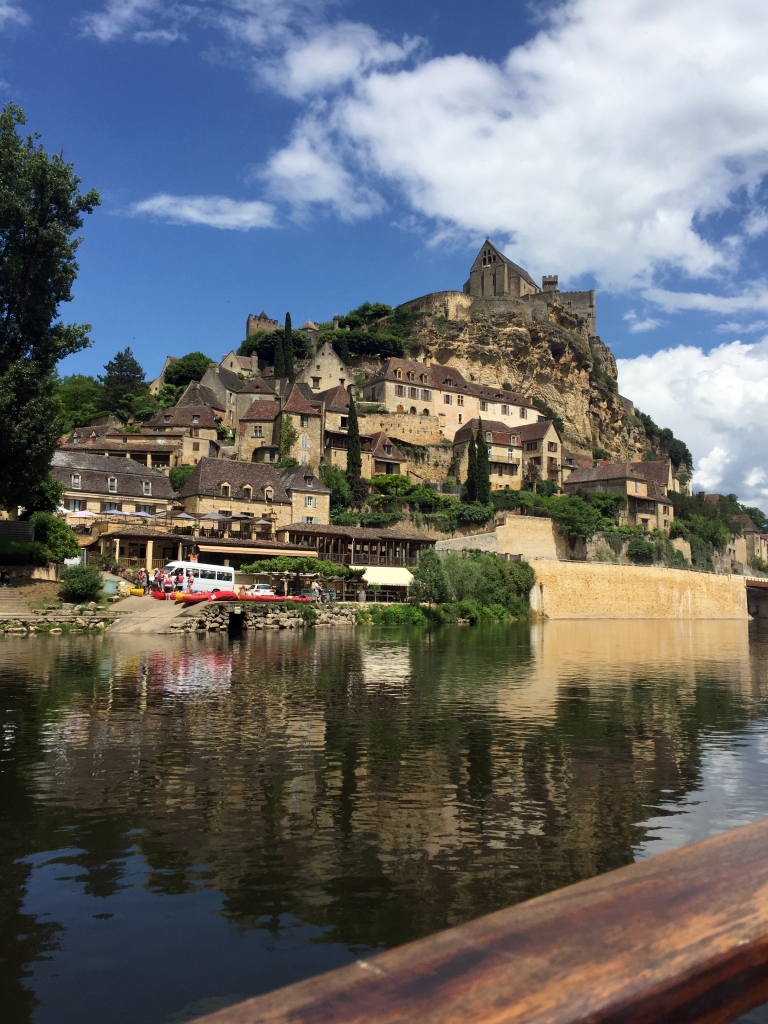 Our house in Beynac, La Maison des Sarrassins, featured stunning vistas up and down the Dordogne River. This panorama was shot just after dawn. One end of the house is on the far right.
Depending on your browser, you might get to see a 360° view of the same scene here.
A long, narrow swimming pool, perfect on a hot afternoon, was attached to the side of the cliff.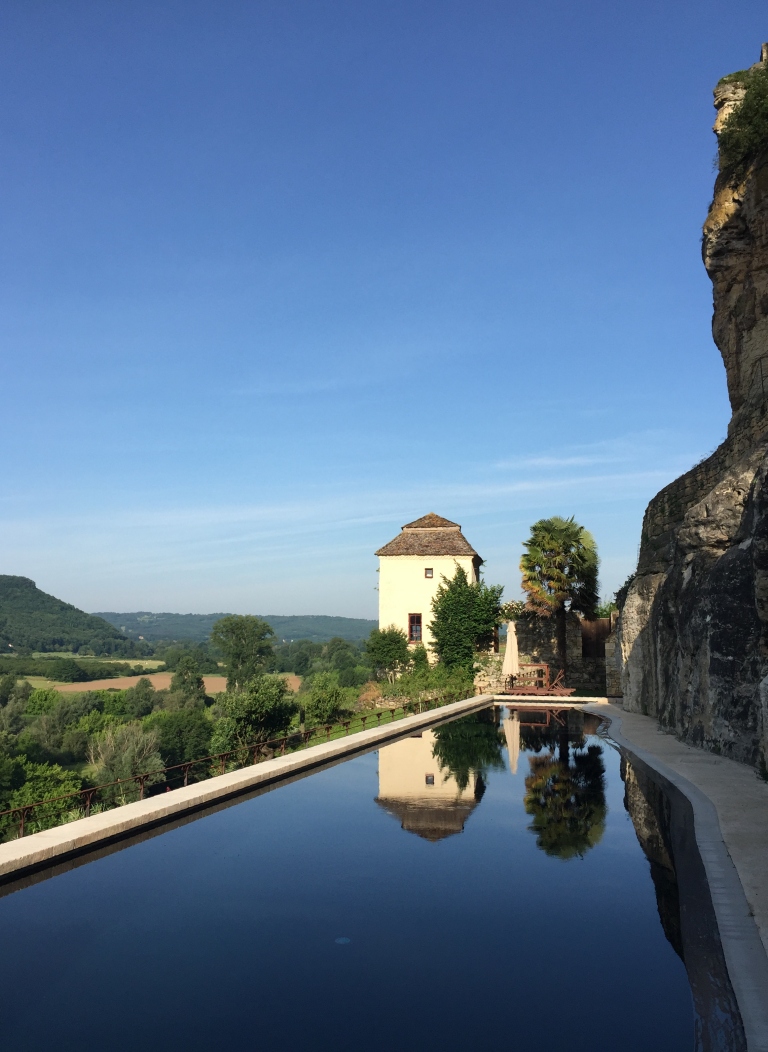 This little storage building next to the koi pond shows the traditional limestone rock roofing technique.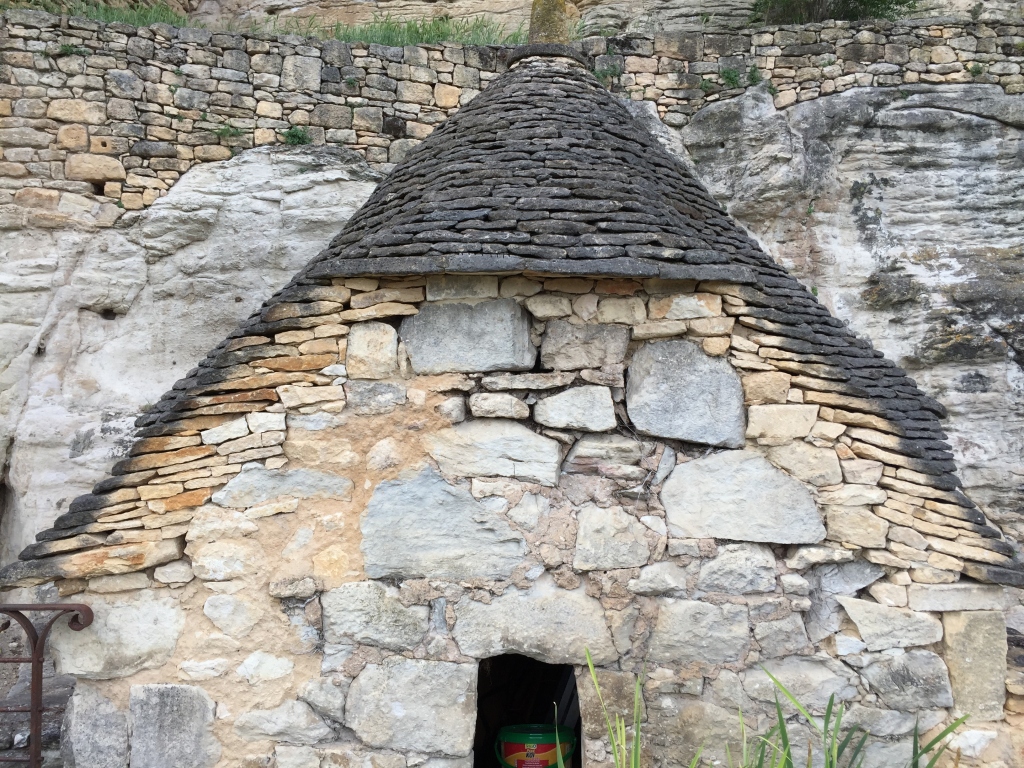 La Maison has been thoroughly updated (bathrooms, A/C, wifi, etc.), but some of the original engineering remains visible.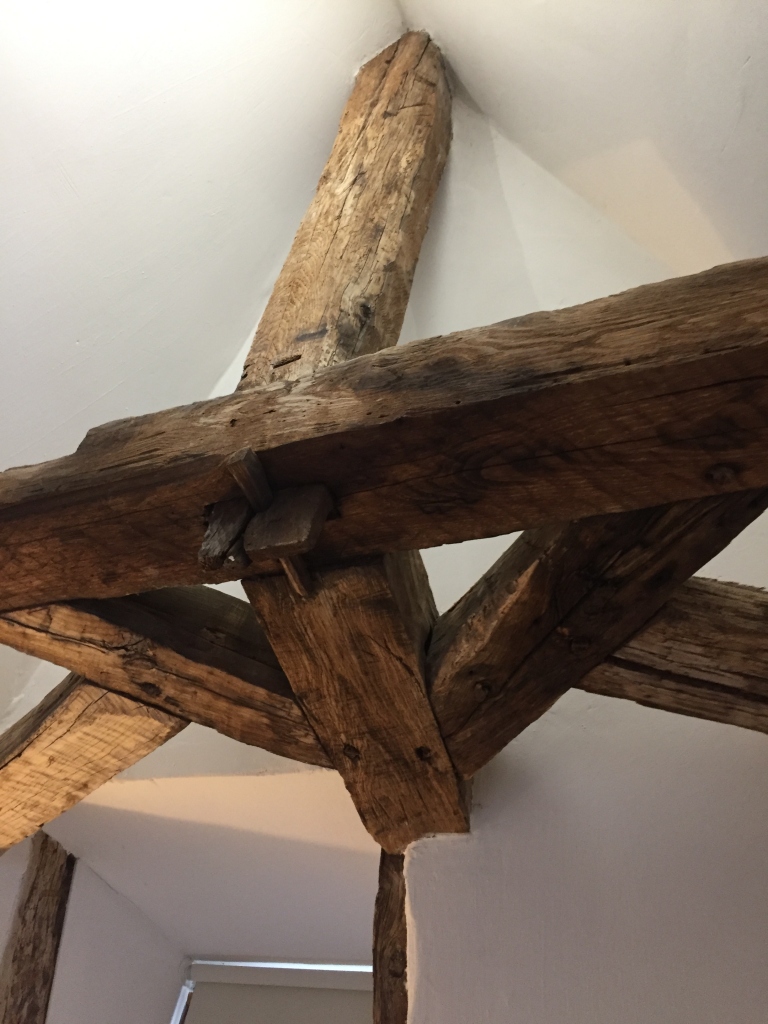 Our bedroom was at the far end of this non-rectangular hallway.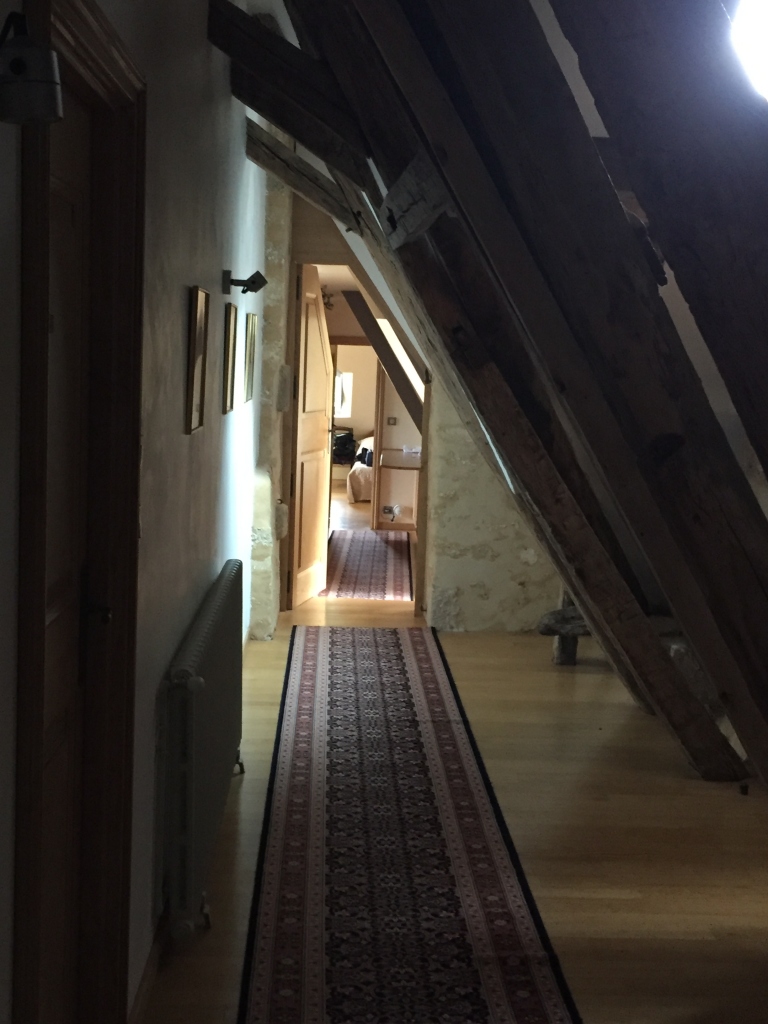 Alas, poor Robin, trapped in the tower lo these many years.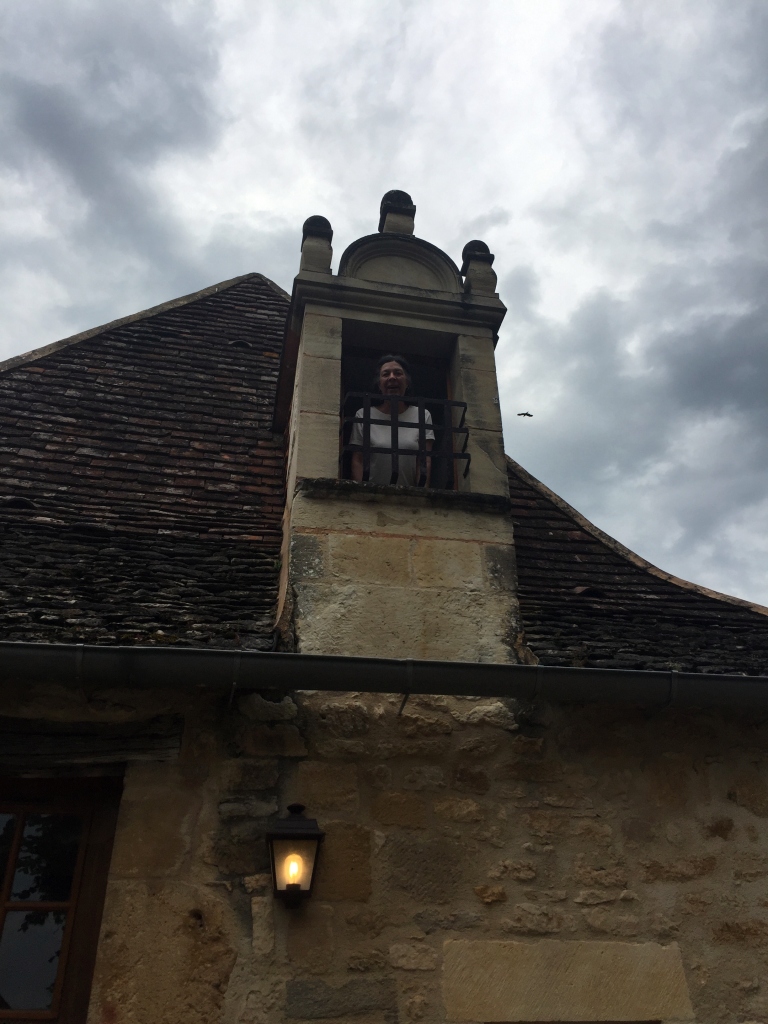 Problem: the afternoon glass of rosé becomes too popular.
Solution: the three liter bottle.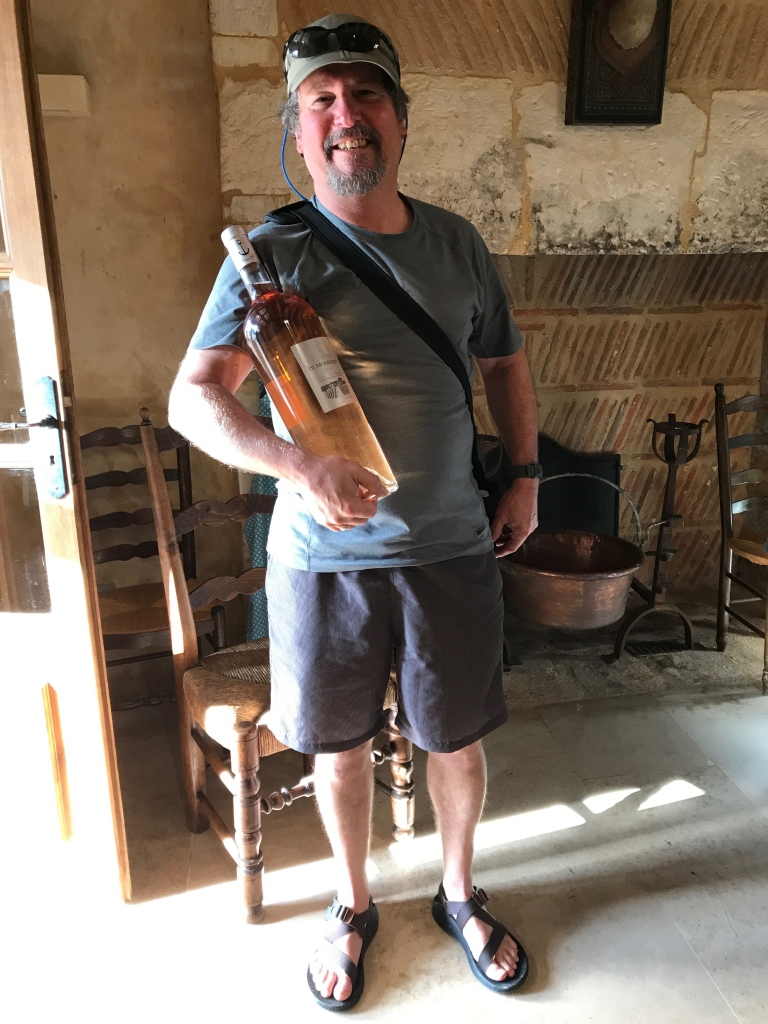 On several evenings a flotilla of hot air balloons came drifting down the valley.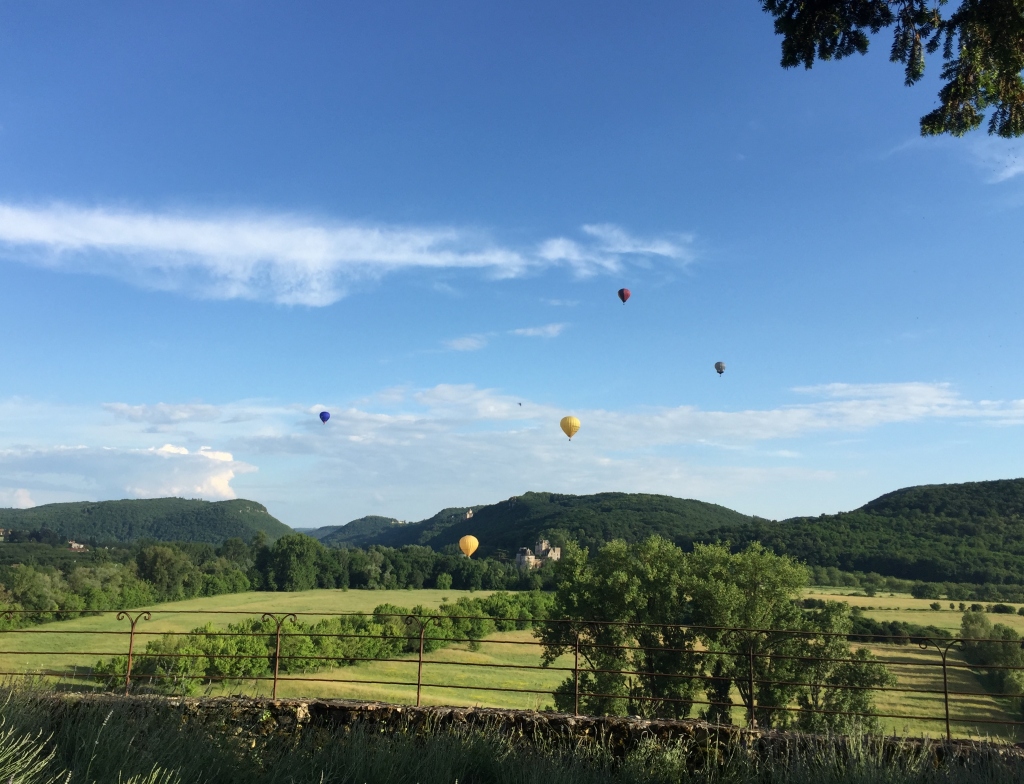 A typical evening meal in the garden.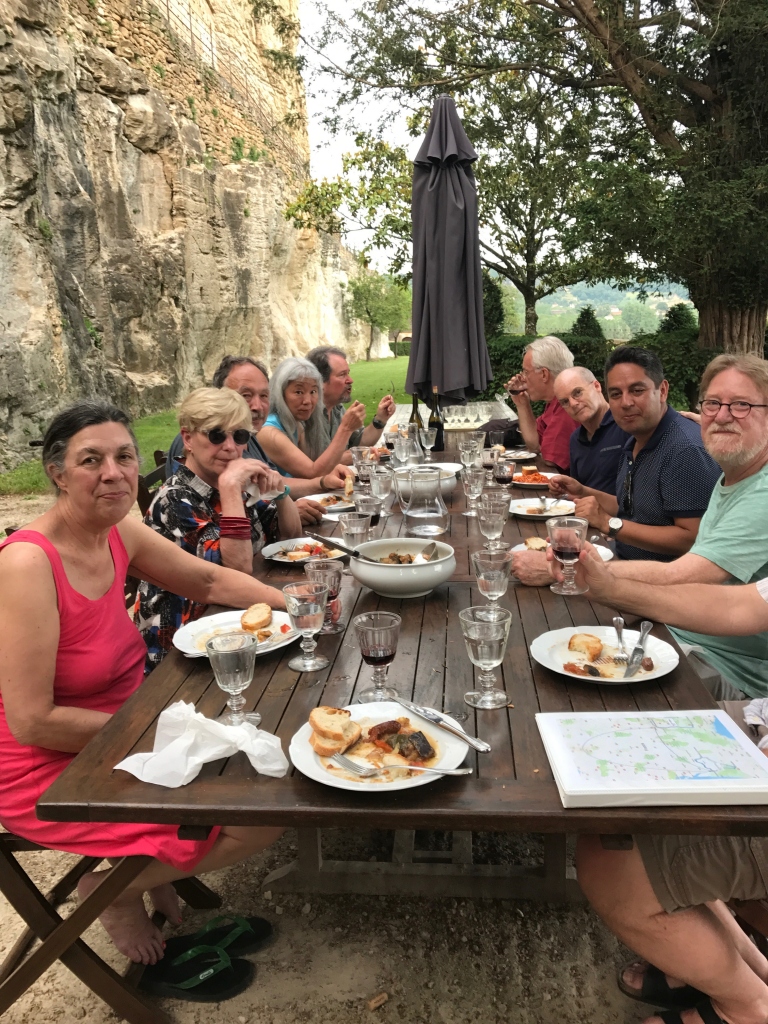 This is the barely drivable road down to La Maison. The village cat knows all the cool places to hang out.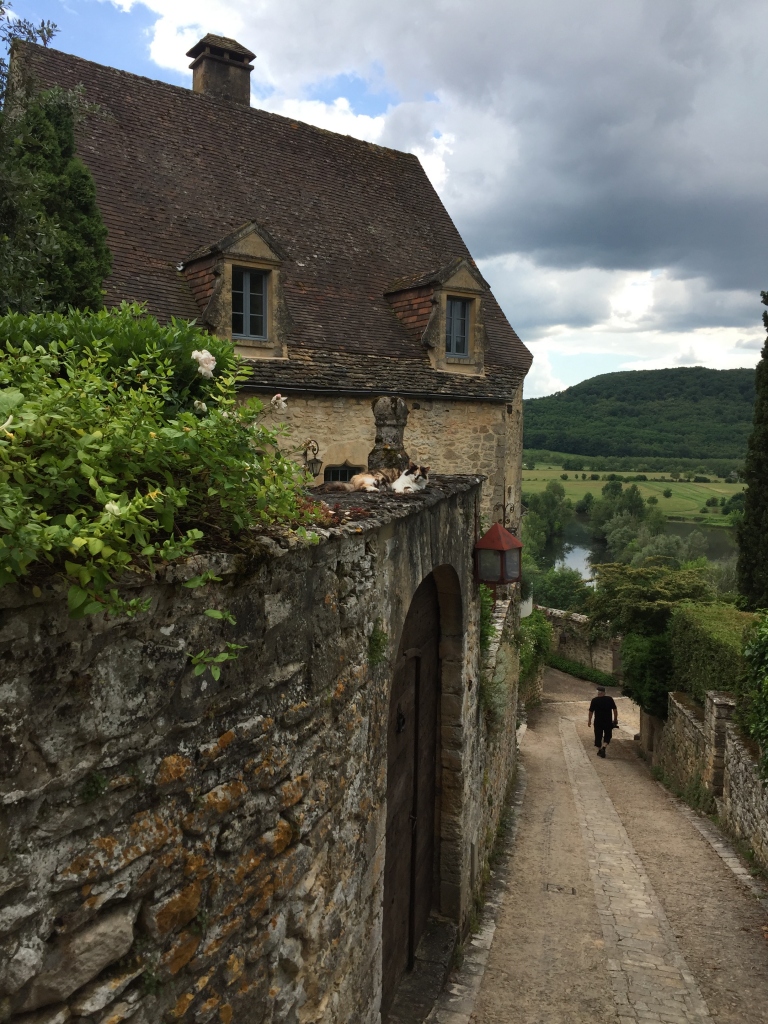 Climbing through the village, heading up to tour le Château de Beynac.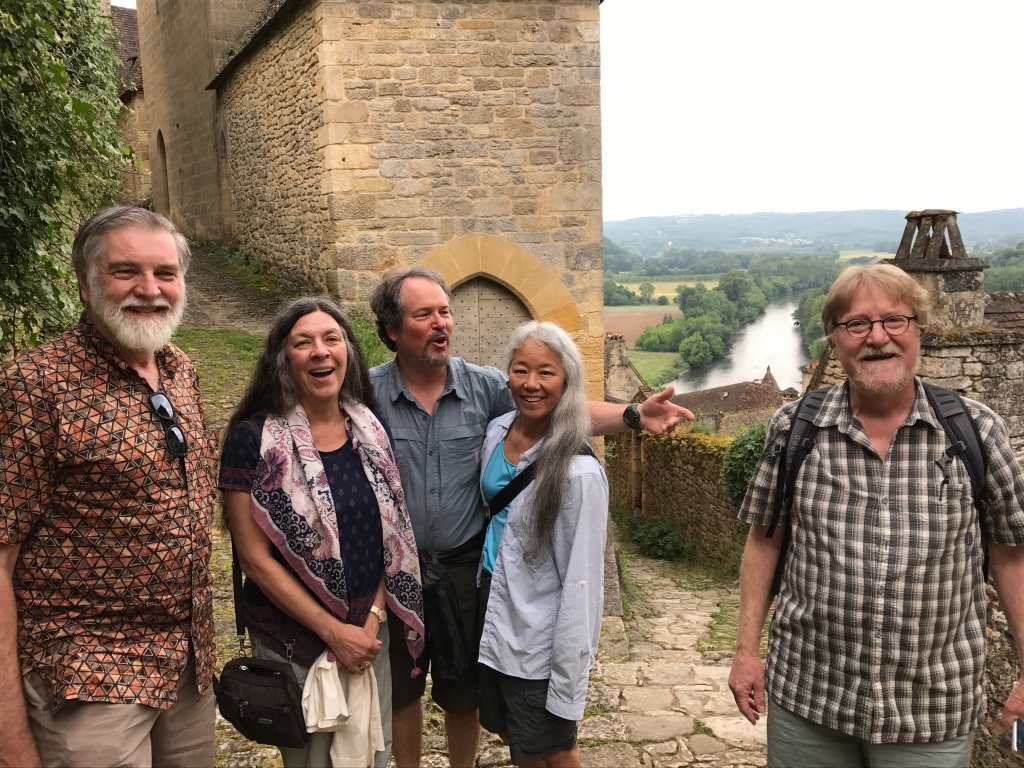 This bronze tribute to the noble goose was in the nearby town of Sarlat-la-Canéda. We honor the geese, without whose enlarged livers the foie would not be gras.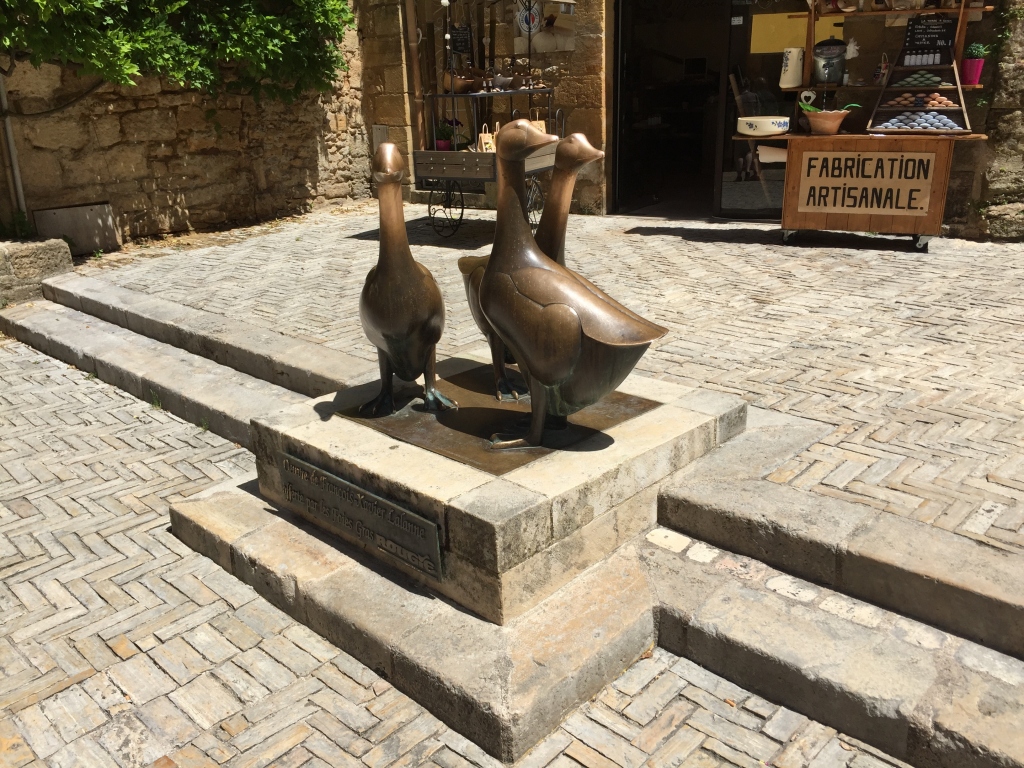 We stumbled into a classic car show in Sarlat-la-Canéda. This darling little convertable coupe was made by Vespa. I need one.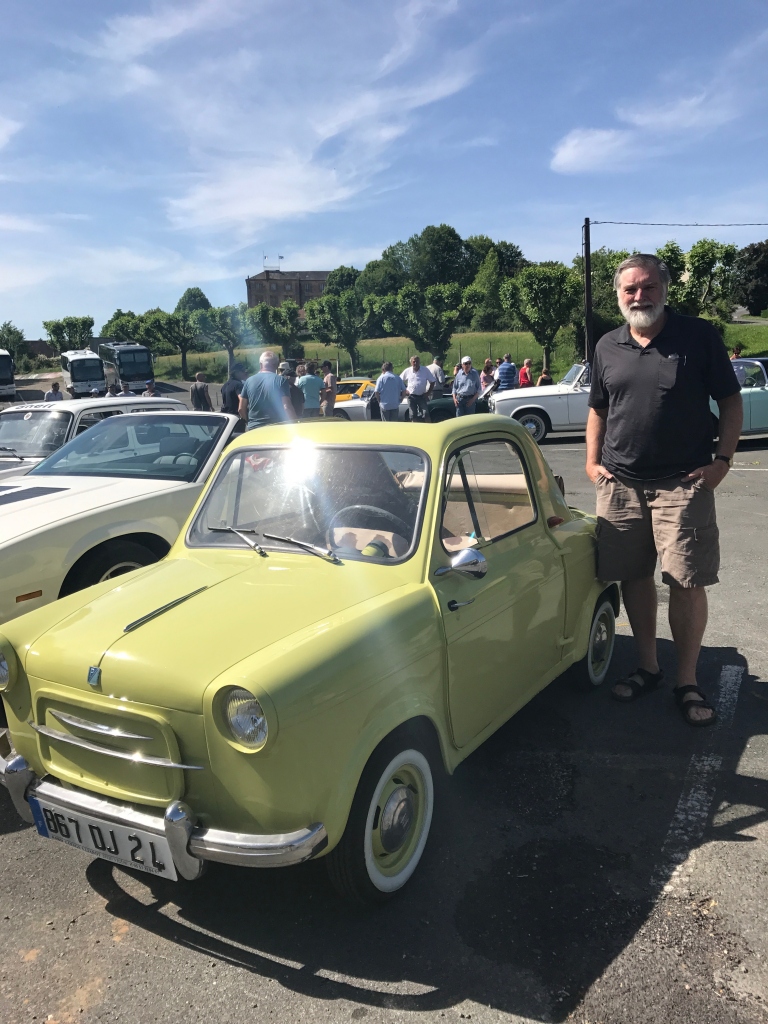 Here we are waiting for our turn to see Cro-Magnon cave art in Grotte de Font de Gaume. It contains the finest examples of polychrome prehistoric cave painting still open to the public.
We took a day trip across the river to see Château de Castelnaud-la-Chapelle. For most of the 100 Years War this was the English stronghold, while the French held the Château de Beynac, a stone's throw away.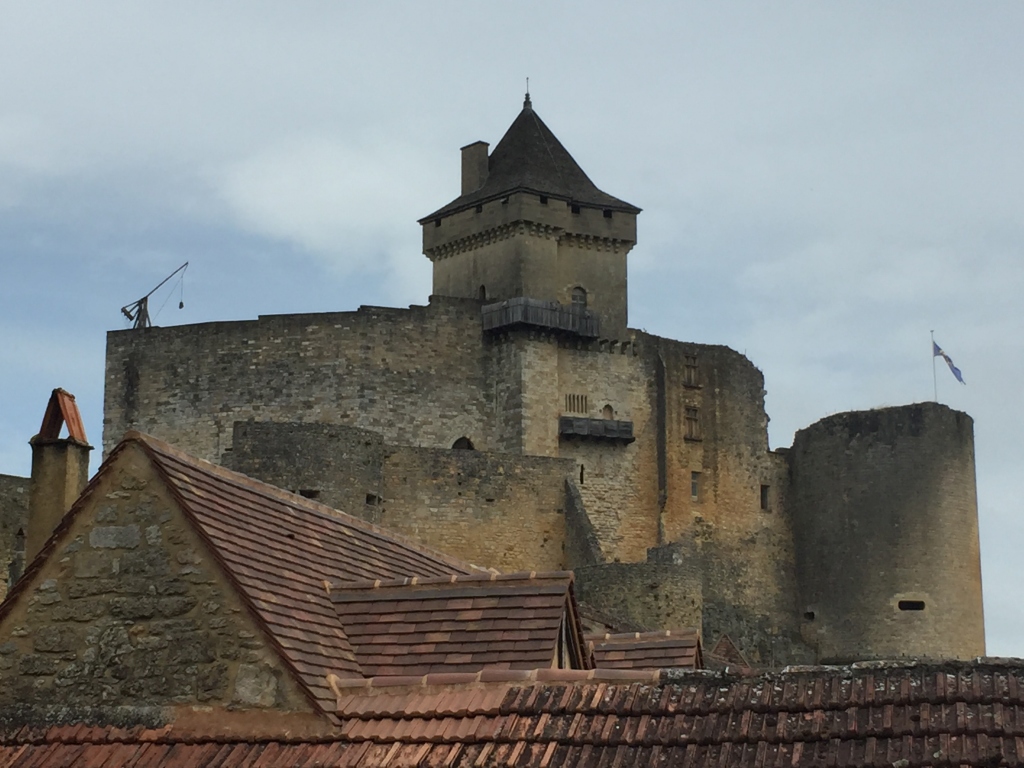 Château de Castelnaud has a wonderful collection of ancient armaments. Here, Raina skillfuly comandeers the Crossbow of Mass Destruction.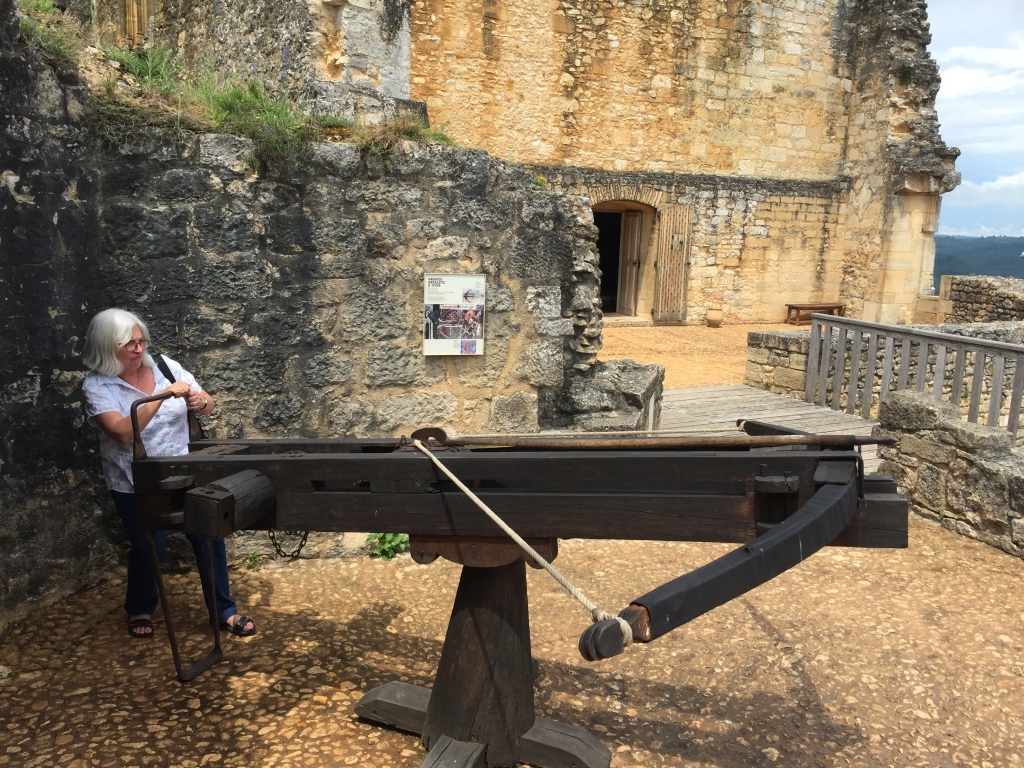 The views up and down the Dordogne from Château de Castelnaud are also quite breathtaking. If your eyes are good, you might be able to make out Château de Beynac on the left, just above the end of the river.

And, what young boy or girl wouldn't want their very own trebuchet? Hurl gigantic rocks for hundreds of yards! Knock down castle walls! Terrify your neighbors! Establish your own fiefdom! Fun for the whole family.
During one of our last evening meals out on the terrace, we were visited by the Woman of Mystery.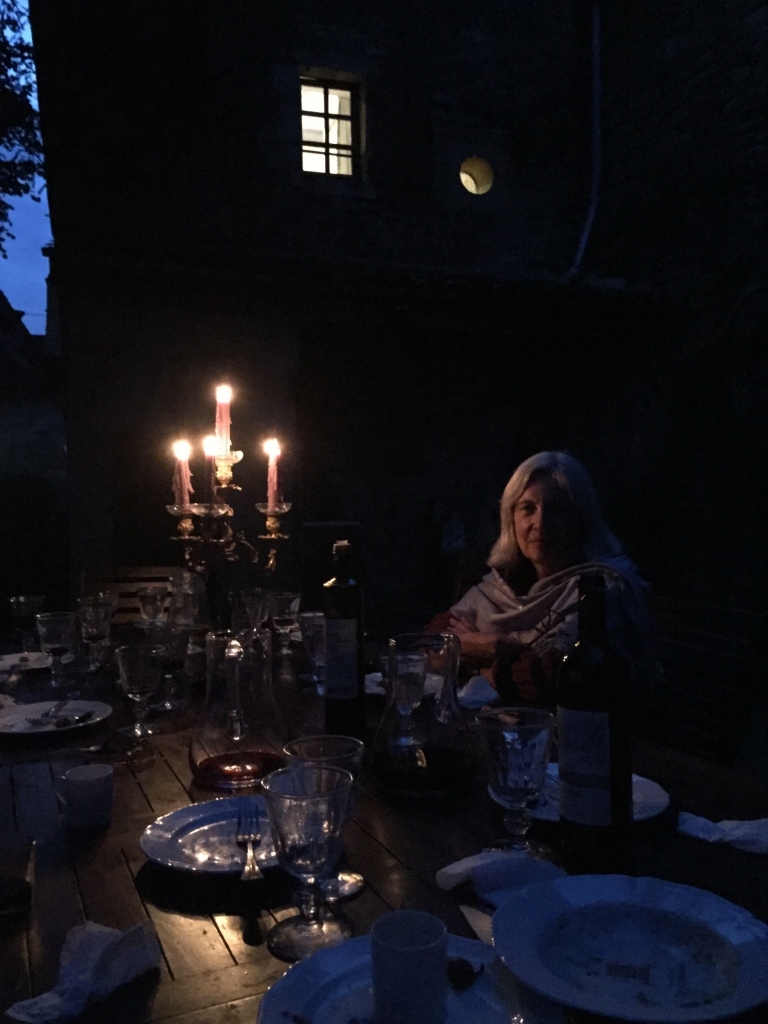 After a delightful week in Beynac, we drove south to Cazaubon.
To return to the home page click here.